So, I was having a hard time deciding if I wanted to set up the black TJ for flat towing again. A couple of trips we have been on, and some locations we would like to visit, there is just no room for a car trailer. I was troubled with dragging the TJ with the lockers, low gears, and spendy MTR's. So I found another Jeep to tow.
My only requirement was I wanted a 2dr, and the new Pentastar engine. I've been seeing this 2016 Wrangler 2dr Sport sitting on a dealer's lot, near our house, for awhile. I went and checked it out. Low miles, RC lift, and 35's. It drove really nice, smooth, no wobbles or shimmies. But on the hiway, it did't want to stay in the lane on uneven surfaces (truck ruts). I figured it to be a caster issue as it still had stock control arms. Bargaining chip!! The 35" tires on the stock Sahara wheels also rubbed on the control arms (stock offset and no spacers). Another bargaining chip!
So I brought him home and started the process of emptying more pockets.
This is how I got it. It kind of sat a little goofy with the wheels all tucked in.
First order of business was wheel spacers and lower front control arms. I found a set of Spidertrax spacers from a friend at work, and ordered a set of RC adjustable control arms. Much better stance and the flighty steering is a thing of the past. One finger driving now.
On to the tow bar set up. I wanted to keep the stock bumper, for now, and didn't want tow bar mounts hanging out under the bumper. Currie Enterprises Rock Jock JK tow bar mount was perfect. It replaces the worthless piece of plastic under the bumper with a tow bar mount that doubles as a skid plate.
Can you see it?
A very nice Jeep builder/collector advised me to get that giant tire off of my stock tailgate before it tears it off!
I immediately took his advise and ordered up a Smittybilt Pivot tailgate hinge tire carrier. This replaces the stock tailgate hinges completely. Very solid. The tailgate closes perfectly, and the tire does not move. It also came with a 3rd brake light extender, which I got rid of already.
Previous wobbly spare blocking the 3rd brake light.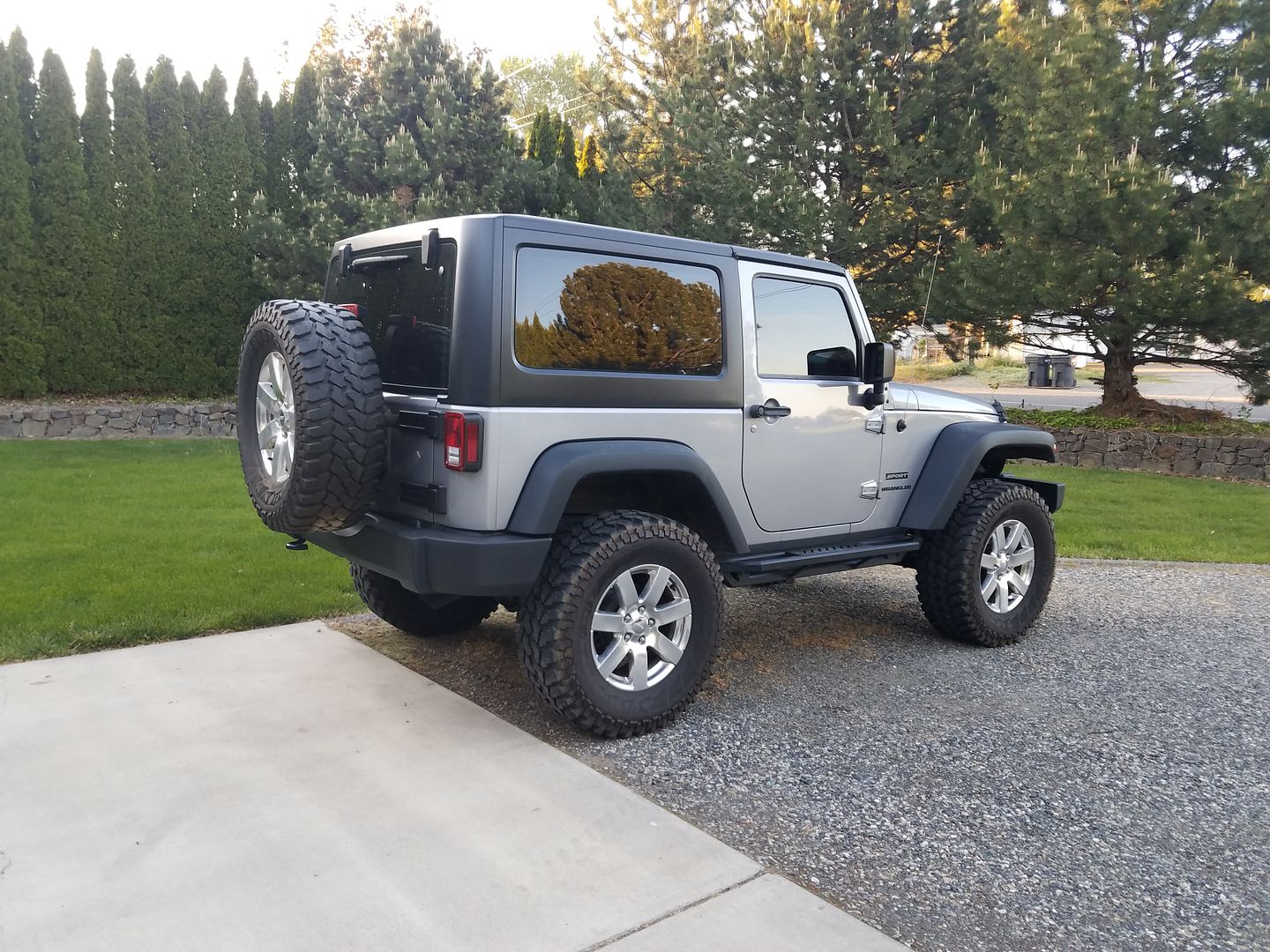 Blocked and taped ready for stock tailgate hinges to go bye bye.
Adjusted and ready for the spare tire. The carrier has adjustments for height and depth to fit various wheels.
All done and nice and close to the Jeep. So close, the rear wiper hits the 3rd brake light.
The tower had to go. Can't have the wiper hitting it, plus I couldn't get my Moose rack on with that thing there. The Moose rack was my cheap solution to towed vehicle lights. So, I cut it off, and welded a flat bar on what was left of the 3rd brake light extension tower. I cut the plastic tower off the stock light and attached it behind the spare.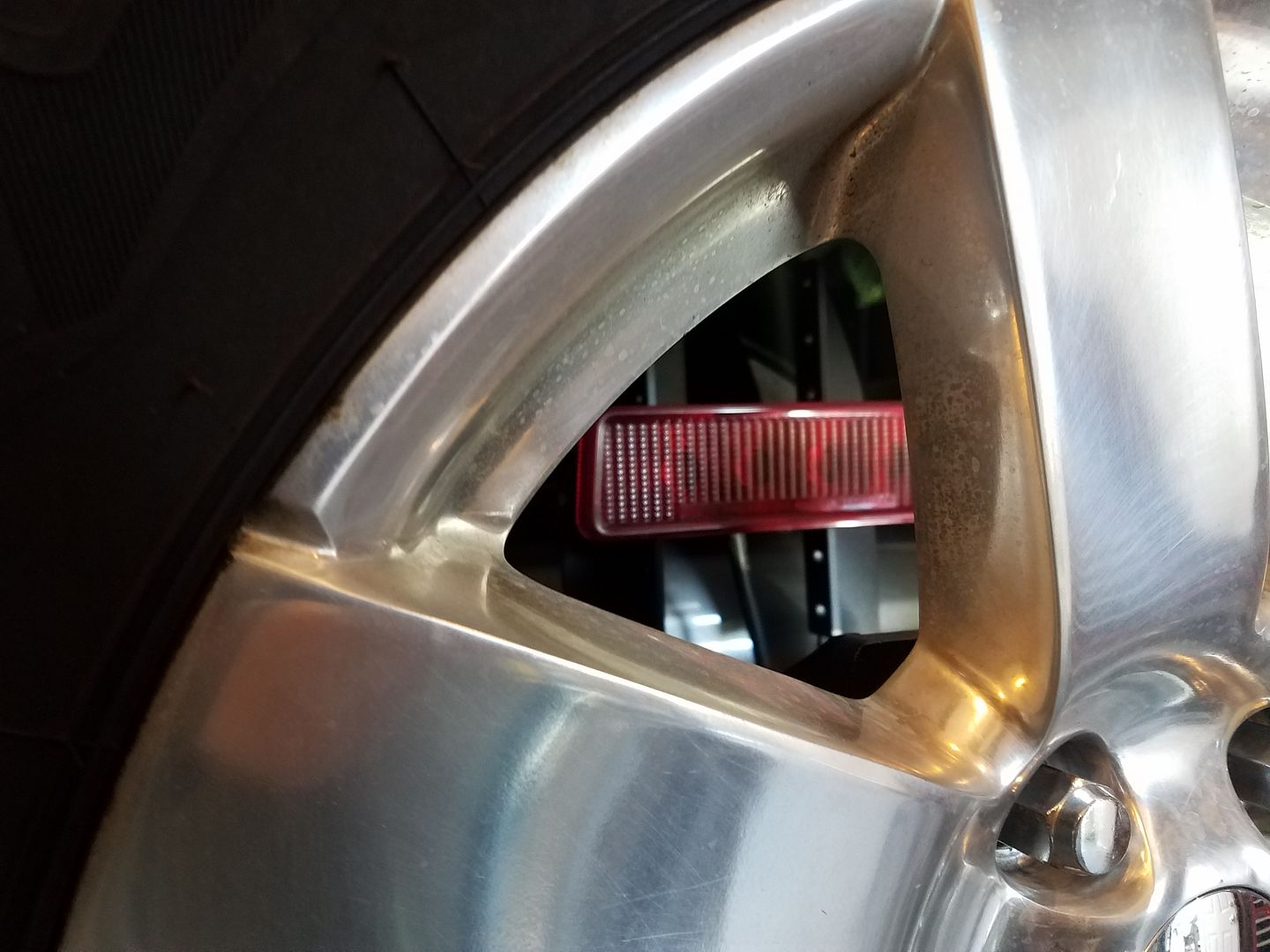 A couple small plates welded in the corners of the rack made perfect mounts for magnetic lights.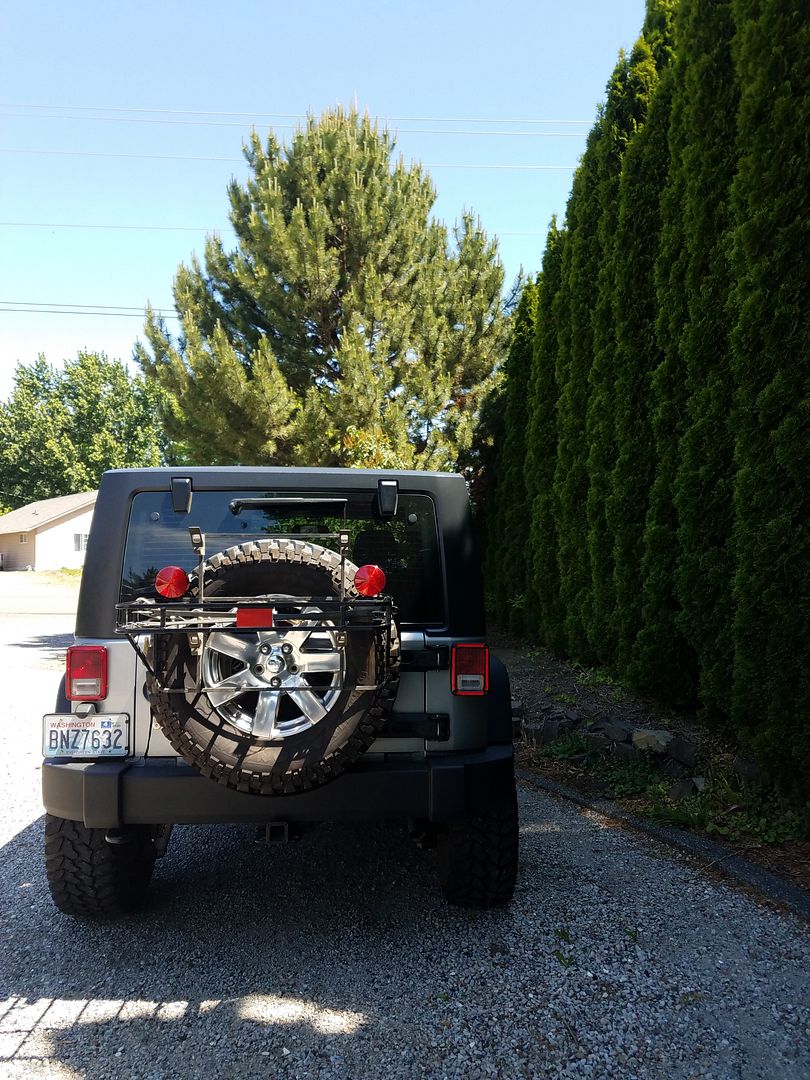 We are now ready for the maiden voyage