I'll post up an initial run report, because Danny won't be able to for a little bit. He is on the road with his motor home living the dream of parking it in every Wal-Mart parking lot in America.
I met up with Danny and Tina in Ellensburg and we proceeded to Liberty. After securing space for our group at the campground and setting up our homesteads we decided to go run a loop while waiting for the rest. We ran Pit Overlook Trail (4W321) and Crystal Ridge Trail (4W319). Pit Overlook was scenic and we saw a turkey hen with chicks. It was a relatively easy trail with maybe one interesting climb made more interesting by Danny showing the propensity that he would have all weekend for trying to do climbs in 2-lo. At one point we almost revoked his 2-lo privileges. Crystal Ridge was more fun, but would have even been more fun run up instead of down (or in the wet.) Danny did get stuck in one little mud hole there and had to pull cable, but that was a freak accident. There were tractor tracks laid down to prevent erosion and give some traction, but one hung up on Danny's spring perch. That was also the only place where we saw a large quantity of mosquitoes. It took driving down the trail a bit before they were out of our Jeeps. Sorry no pics of that, batteries were dead in the camera.
Back from our afternoon loop...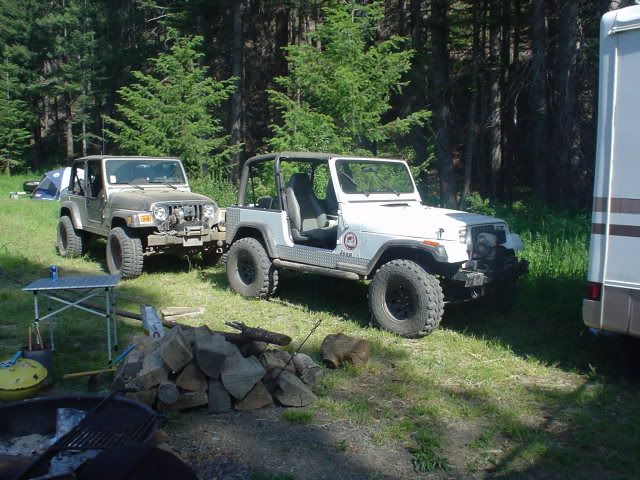 Returning to camp we noticed that Ed was already there (much to our surprise, we thought he would be rolling in late.) We went over and made initial plans with him for the fourth. About that time Tim showed up with his behemoth trailer, condo, flatbed, apartment complex with TJDave in tow. They were slowed a bit by one flat tire on Lurch's the tow hauler's maiden voyage.
Saturday morning we rolled out of camp at about 10:00 AM with Ed as our trail guide. (Hence breaking the rule that my wife gave on leaving the house, "Don't follow Ed.â€